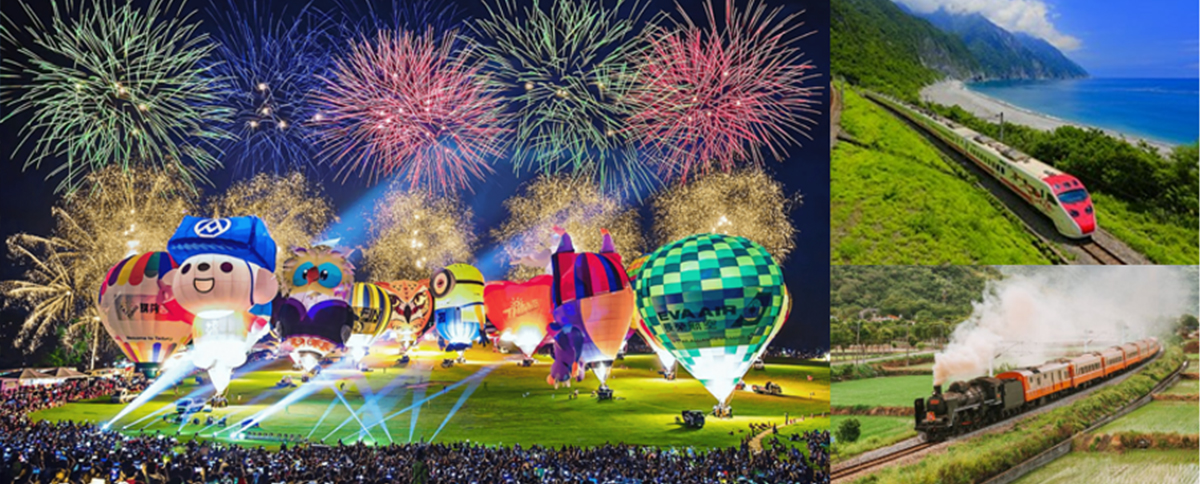 East Coast Scenic Rail Journey
Departure from your hotel lobby at 08:00 a.m., then head to Taipei main station for the train: PUYUMA 412 (Taipei 08:48-Hualien 11:01 estimated) with your guide. For 40 min drive (approx.) to Qingshui Cliff : a 21 km length of coastal cliffs in Hualien. : a 21 km length of coastal cliffs in Hualien. The tallest peak, Qingshui Mountain, rises 2408 meters (the highest coastal cliff in Taiwan) directly from the Pacific Ocean. The cliff is located at the southern part of the Suhua Highway that connects the counties of Yilan and Hualien in eastern Taiwan. Another 40 min drive (approx.), Taroko Marble Gorge: Shakadang Trail or Lushui Trail, Eternal Spring Shrine (Changchun Temple), Yanzikou (Swallow Grotto), Cihmu Bridge is famous for its spectacular mountains, marble canyons, and cliffs stretch along Liwu River. After millions of years of wind erosion, the marble rocks were exposed and cut by Liwu River, creating impressive grand canyons. Such special geography has also bred special flora and fauna in this area. At Yanzikou (Swallow Grotto) the rock cliffs of the Liwu River gorge seem to reach to heaven while the river runs its swiftest and the distance between the gorge walls so narrow that they almost seem to touch each other. You can enjoy the sights of the Liwu River from nearly straight above the water, the potholes on the cliff faces, the springs sprinkled along the lower parts of the walls, as well as the famous rock formation "Chieftain's profile rock".
Hotel: Silks Place Taroko  ⭐⭐⭐⭐⭐
Enjoy your breakfast, also the hotel amenities, such as SPA, swimming pool, etc in the morning. The journey today will start at 11:20 am from hotel to Hualien station (1 hour drive approx.) for the train: PUYUMA 422 (Hualien 13:08-Chihshang 14:32 estimated ). Dapo Pond: There are rich natural resources of wildlives. In summer you will be able to see a full pond of lotus flowers in pink. Mr. Brown Avenue & Taitung's Takeshi Kaneshiro tree is famous for the TV commercial of Mr. Brown Coffee (a local coffee brand). The "avenue" is a single lane pathway in the middle of the green paddy fields. Takeshi Kaneshiro Tree, is named after Taiwanese-Japanese actor in EVA Air TV commercials. We'll take a few hours to cycle on exclusive bike paths that pass through rice paddies (the bike will be provided & included, or you can choose to pay for upgrading!). That evening, the luxurious resort facilities provide bar, cafe and outdoor hot spring, etc.
Hotel: Papago International Resort ⭐⭐⭐⭐
Enjoy your breakfast, The journey today will start at Bunun Tribal Leisure Farm in Taoyuan Village, this is the home of the Bunun tribe. It's facilities include a village theater, a weaving studio, a modern-day aboriginal art center, a coffee shop, hostels, restaurants, pastureland, and a riverbank park. Then we drive to Luye Highland, the Highland area has an elevation of around 350 meters. The unique geographical conditions of this area make it a superior place for eastern Taiwan paragliding activities. June, July and August are the best months for riding hot-air balloons in the Luye Plateau. As you follow the signs from Longtian to Highland, the land gradually becomes higher. After going a short distance from the Highland Tea Leaves Exhibition Center, a vast carpet of green grass slopes greets the eyes. This is the Highland Paragliding Training Center, which was set up by the East Rift Valley National Scenic Area. After climbing up the grass slopes to the highest viewing pavilion, the scenery of the whole Highland area and Beinan River Valley can be taken in at a single glance. Just on a relevant note, there is a parachute site right across the Fulushan Farm & Resort. Many visitors have come to Taitung to take a parachute ride which offers magnificent panoramic views.
Later, we will visit Chulu Ranch grows on a slightly acidic sandy hillside at an elevation of 200 to 390 meters above sea level and receives about 1,900mm of rainfall annually. The 70-plus hectare ranch has 45 hectares of pasture and grazing land, making it the biggest hillside pasture in Taiwan. The 350 resident Holstein dairy cows produce about 500 metric tons of milk a year. The pasture also buys milk from a cooperative of seven dairies with 1,100 Holsteins and an annual milk production of about 3,000 metric tons. The milk is processed at the ranch into about 3.5 million kilogram boxes of fresh milk. Visitors can also enjoy horseback rides, take a spin in a horse-drawn carriage, and buy a wide range of locally made dairy products at the ranch store.
Hotel: Hotel Royal Chihpen⭐⭐⭐⭐⭐
After breakfast, we will head back to Taipei through The East Coast scenic route, stopover at Yehliu Geopark, famous for its natural rock formations; Sanxiantai which situated at the 110.5-kilometer mark on the coastal highway, Sanxiantai consists of a headland facing a small island in the sea.  Before we take train from Hualien station back to Taipei, our last stop is Fanshuliao. Located at the 28-kilometer mark down the Provincial Highway No.11, Fanshuliao offers views of two strongly contrasting types of topography, both created by the Fanshuliao River: a wide valley made up of accumulated sediment, and a narrow, vertical-walled gorge which has been cut through the mountains by the relentless wearing action of the flowing water. The gorge is somewhat similar to the famous Taroko Gorge, and offers the most remarkable vistas of this type of terrain on the East Coast. A local legend has it that the aborigines living here in the distant past so revered courage that they promised to make chief whoever could vault across the gorge. The bamboo poles that they used in their attempts survived, however, becoming a living bamboo grove that still thrives in the gorge today.⭐⭐⭐⭐⭐